10 Festive Holiday Recipes for the Whole Family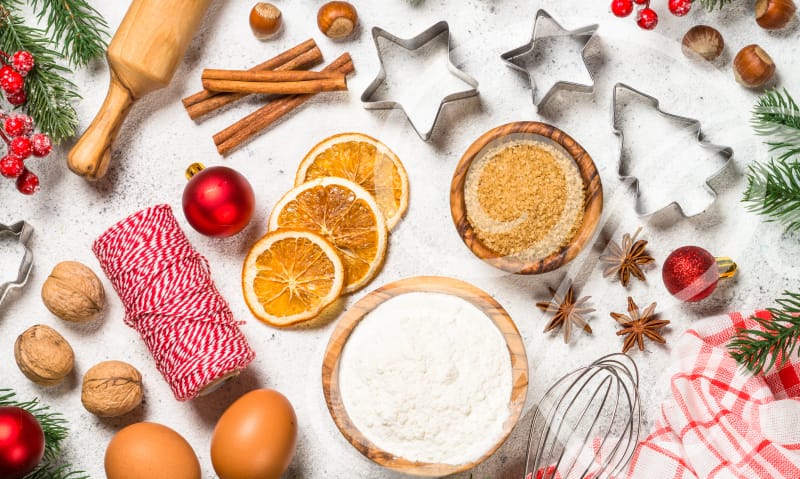 November, December, and January are chock full of holidays. Whether you celebrate Hanukkah, Christmas, Kwanzaa, Boxing Day, or you have your reasons to celebrate, these months are filled with delightful and delectable meals and snacks. Every year, Americans across the country determine to count their calories as Thanksgiving approaches.
But how quickly that resolution fades as the scents of holiday baking waft through the air at local markets, and even more so, in our home kitchens! The good news is that even though the holidays are aligned with tasty treats, there's delightful healthy holiday recipes that can make you feel good about what you're eating in more ways than one.
Healthy Holiday Recipes Perfect for Any Family Holiday Celebration
What are your favorite holiday foods? We're betting that turkey, ham, gravy, mashed potatoes, corn casserole, creamed spinach, and green bean casserole likely made the list. And what about those sweeter treats, like Christmas cookies, Thanksgiving pies, mince pies, latkes, and sufganiyot (jam-filled donuts). They likely made the list as well. Unfortunately, some of these foods and snacks are less good for our bodies than others, especially when not consumed in moderation.
We know that parents want to provide a fantastic holiday celebration for their families. Aside from our religious beliefs and preferences, the joy of family and celebration generally lies at the heart of whichever holiday you celebrate. So why not try something different this year? Try combining fun snack ideas that kids will love and that adults will be relieved to see on the holiday dinner table, and then pat yourself on the back for creating a delicious holiday meal full of healthy holiday recipes.
1. Mushroom-Stuffed Pork Tenderloin
We know it might be hard to break tradition—and don't worry, turkey is very good for you—but why not change things up this year? If you enjoyed your turkey for Thanksgiving, then give this mushroom-stuffed pork tenderloin recipe a whirl. This dish satisfies the savory palate of all your guests, from the kids to grandpa and grandma.
2. Sufganiyot
Whether you celebrate Hanukkah or not, who doesn't love the idea of a tasty jam-filled donut? Does that have your taste buds salivating? It might have you cringing about fat content too. But we have found a tasty recipe that can help drop that guilt down a few notches. Whether you are a sufganiyot aficionado or want to give it a try for the first time, test out this whole wheat sufganiyot recipe the next time you are in the mood to bake.
3. Roasted Honeynut Squash
Never heard of honeynut squash? That's because honeynut squash is a recent hybrid of butternut squash, and has limited availability at various grocery stores and farmer's markets across the country. So if you are venturing out to unique grocery stores or your community farmer's market, be on the lookout for this fun winter squash. You may be surprised to find out that even your kids will like this one—the insides are delightfully sweet and nutty. Try your hand at this roasted honeynut squash recipe and see for yourself.
4. Low-fat Sugar Cookies
Sugar cookies are a staple at just about any holiday celebration. Sadly, most sugar cookie recipes, as the name would imply, are high in sugar and saturated fats. Your kids will likely be none the wiser when you whip up this low-fat sugar cookies recipe. At only 65 calories per cookie, you can't go wrong.
5. Munchy, Crunchy Veggies
Fresh crunchy vegetables are an excellent appetizer at any holiday celebration. Not only that, but the vegetarians and vegans at your holiday dinner will feel seen and included while enjoying the deliciousness. This said, if the idea of a plain-old veggie display bores you, why not dress it up with some fun vegetable recipes? Your kids will be sure to love ants-on-a-log, no matter which variation you decide to prepare. Maple-glazed carrots are also a fun way to get your kids to eat some veggies.
6. Healthy Mince Pie
No Christmas in England is complete without a mince pie. Now, we know that Texas isn't in England, but it doesn't mean we can't bring flavors from around the world to our list of holiday foods this season. And if you have never tried a mince pie before, why not try this healthy mince pie recipe and see what you think? You'll have the delight of trying something new without the guilt that goes along with such a fun and unique treat.
7. Guilt-Free Keto-Friendly Ham
Ham is sure to be found at many holiday tables across the country. But many holiday hams are slathered in a glaze made from a not-so-healthy amount of sugar. So, if you want to enjoy a holiday ham this year, try this sugar-free glazed keto ham recipe. We're confident you and your guests will love it so much that they won't even realize it is carb-friendly.
8. Pita Tree Appetizers
Kids love getting in on holiday cooking, but it can be a bit worrisome for mom and dad when cutting utensils and hot ovens are involved. So why not err on the side of caution with a fun healthy food option that is sure to make your list of kids' holiday snacks in future years? These pita tree appetizers are fun and savory and only require minimal adult supervision.
9. Grinch Poppers
Fruit is always a great choice for kids that want a sweet treat. But just like that boring veggie tray we mentioned earlier, even the typical fruit bowl could be met with shrugged shoulders now and then. Here is another great opportunity to call the kids into the kitchen. These grinch poppers are not only fun to eat, but they are also sure to be a conversation starter amongst your holiday guests.
10. Low-Carb Keto Jalapeño Corn Casserole
We're in the south, so who wouldn't like a little bit of heat added to the holiday table? We think after you give this low-carb keto jalapeño corn casserole a try, it'll make your list of healthy holiday recipes for next year as well. And if those jalapenos are a non-starter for you, simply leave them out of the recipe. We're pretty confident this recipe will still stay at the top of your list.
Your dental hygiene is important to us during the holidays, and all year long, too!
At Parmer Lane Dentistry in Austin, TX, we want you and yours to have the happiest of holidays. And our gift to you is some recipes that are not only tooth-friendly, but less dangerous to your overall health too. This said we would be remiss if we didn't take the opportunity now to remind you that it's imperative you stay ahead of tooth decay. So take the time to talk to your kids about healthy holiday recipes and dental hygiene as well. And if you or the kids are overdue for a dental cleaning and oral examination, there is still time to get in before the holidays. Request an appointment at Parmer Lane Dentistry today.